LEAP 2023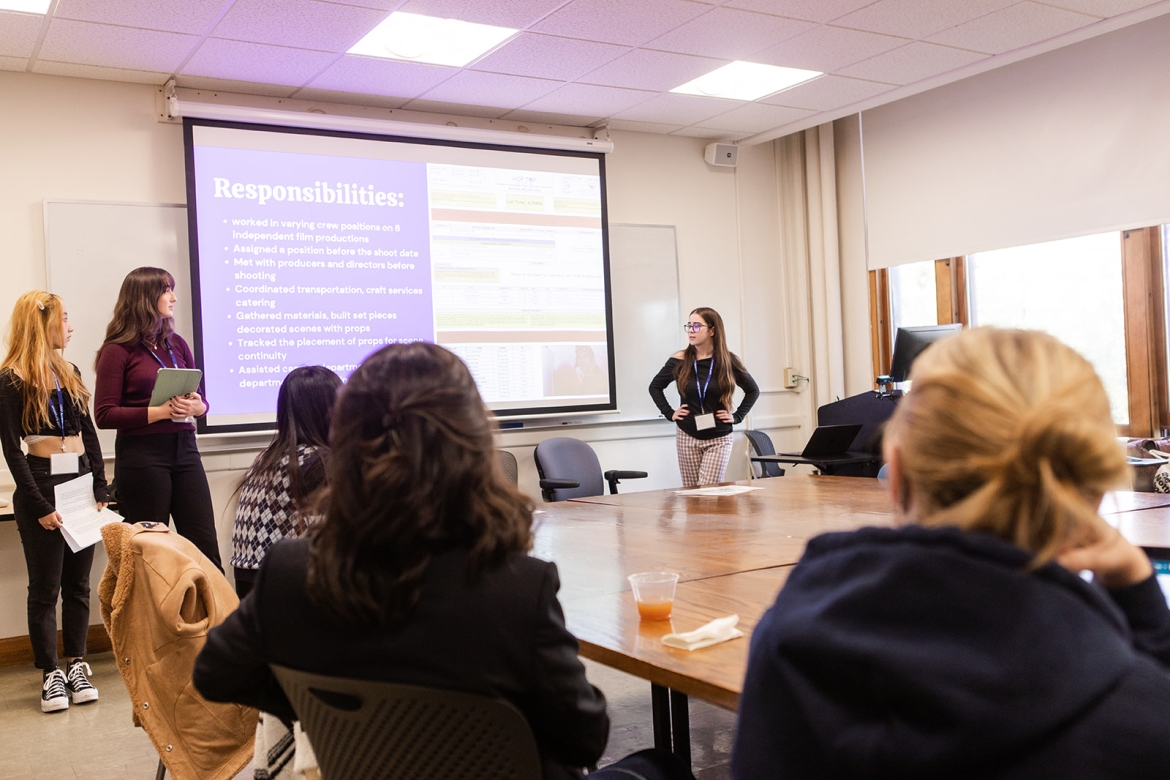 The LEAP Symposium is Mount Holyoke's premier showcase of student summer work, organized by and for Mount Holyoke students.

An annual campus-wide event, LEAP (which stands for Learning through Application) brings together faculty, students, staff, family, friends, and alums to hear students present their summer research and internship experiences from around the corner and around the world. A central element of the College's curriculum to career experience, the LEAP Symposium is a powerful vehicle that demonstrates the strong connections between academic work at Mount Holyoke College and its practical application in the world.
Welcome from President Holley
Please join us in the Kendade Atrium at noon for coffee and a brief welcome on behalf of students in College 211 presented by Frances Perkins Scholars Kim Sawyer-Wheeler and Kim Kindred.
Land Acknowledgement Statement
Thank you to the many supporters who ensure that Mount Holyoke sustains vibrant intellectual opportunities for students in every discipline and professional field year over year.
Mildred Altman Summer Internship Fund
Louise Appleton Career Development Fund
The Katherine Adler Astrove '54 Fund for Summer Internships
Susan Bateson '76 Internship Fund
Susan D. Bateson '76 Learning Abroad Fund
The Barbara M. Baumann '77 Internship Fund
The Jennie E. Berkson '76 Endowed Internship Fund
The Laura Bernstein Internship Fund
The Susan B. and Peter R. Betzer '65 Endowed Fellowship Fund
Jane Allen Birge, 1928, Internship Fund
The Boppy Internship Fund
Grace L. Brodsky, 1958, Internship Fund
Nancy V. Brownell Internship Fund
Barbara Moakler Byrne Internship Fund
Miriam C. Camps Endowed Internship Fund
Class of 1949 Memorial Internship Fund
Class of 1964 Green Purse Legacy Circle Fund
The Condon Endowed Internship Fund
Frances (Class of 1944) and Robert Connick Internship Fund
Barbara Taussig Cowen 1950 Internship Fund
Joanne Creighton International Internship Fund
Mary Graham Davis '65 Internship Fund
Hedley Donovan Endowed Fund
Feldman/Koster Fund for Biomedical Research
The Catherine and Thomas Foster Fund for Environmental Stewardship
Fund the Future
Mary Jean Hale Internship Fund
Marion Ho So 1959 and Miu-Hing Ho Chu 1963 Asian Initiatives Fund
The Ruby G. Jackson '37 Research Fund
The Louise and Philip Landry Internship Fund
Elizabeth and William Lauder Journalism Fund
Lazarus Family Internship Fund
Clare Boothe Luce Program of the Henry Luce Foundation
Lynk Archives Internship Fund
Lyon's Pride Expendable Internship Fund
Paul F. McGuire Estate Endowment Fund
Miller Worley Internship Fund
The Moffat Internship Fund
National Institutes of Health
National Science Foundation
Deborah Morgan Olsen '65 Endowed Fund for International Service Internships
One World Internship Fund
The Janet Eddy Ordway 1947 Internship Fund
Sarah Rabinow Pesikoff '90 Endowed Internship Fund
Ellen P. Reese Fund
T.W. Reese Fund
Marilyn Dawson Sarles, MD Fund for the Sciences
Victoria Schuck Endowment Fund
Special General Fund 1933
Mary E. Stanley '70 Public Service Internship Fund
The Alice Bliss Studebaker '59 Internship Fund
The Summer Student Research Endowment Fund
The Jane Kaltenbach-Townsend Fellowship Fund
The Truman Family Internship Fund
The William V. Wallin Endowed Fund
Marcy Wilkov Waterman '71 Scholarship Fund
Elizabeth Weatherman Expendable Fund for Internships in Africa
Edward Allen Wilson Endowed Internship Fund
Margaret Mary Andrews Winters '35 Endowed Fund
The Margaret L. Wolff '76 Endowment for Global Internships
Jane A. Zimmy 1974 Internship Fund